About Bloomsbury
We opened our doors in the small river town of Stevenson, Washington more than 20 years ago. Since that time, Bloomsbury has grown to become both a destination retail boutique and a neighborhood favorite. Visitors and locals alike stroll through our shop and delight in the fresh scents of our flowers and seasonal merchandise selections. Others seek us out for our unique way of combining natural textures with locally grown flowers and greenery. We're not your traditional florist. We add a level of creativity to our flower arrangements—and everything else we do—that sets us apart from the rest.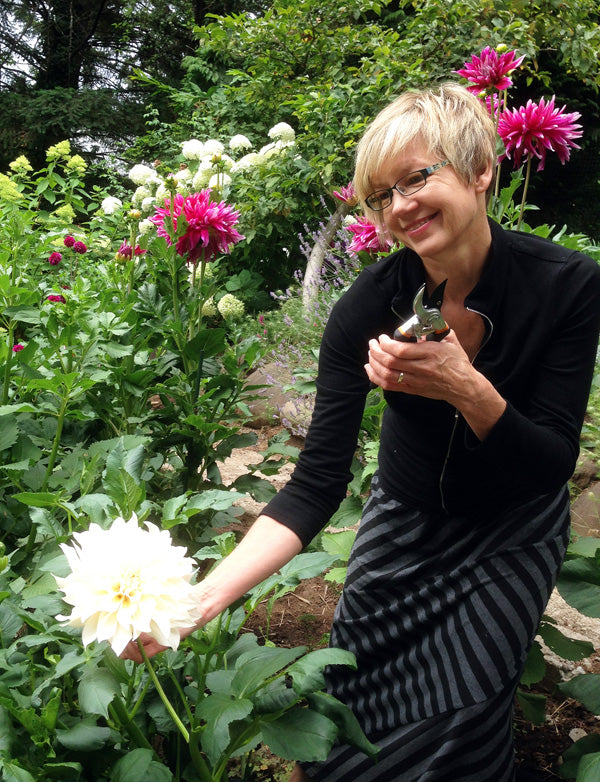 Bonnie, Owner + Daydream Believer
 A transplant from Minnesota, I put down roots in the Pacific Northwest more than 30 years ago. I enjoyed living in Eugene, Seattle, and Portland and made the move out to Stevenson in my late thirties. The beauty of the Columbia River Gorge and a drive over the Bridge of the Gods on a sunny day encouraged the move from Portland.
I could not believe such a beautiful place existed just 45 minutes outside of Portland. Ready for a change, I began my search for more property to garden on as I was feeling "cramped" in the city.
Plans to start a destination herb farm and landscape design business soon turned into buying a small flower shop. My many years of experience as a window display artist, visual merchandising and store design background provided a great foundation for the retail shop. Knowing nothing about floral design or running a business, I decided I would simply approach this as garden design in a vase and the rest I would learn along the way!
I love being able to channel my creative passion for arranging and eye for detail and design into the art of flower arranging, buying and merchandising. This journey has been most rewarding and joyful. And now, 18 years later I'm very proud of the business I've created along with the many talented women I work with who help make it come to life every single day.
A nature lover, animal lover, and artist at heart: I feel most at home digging in the dirt with my husband on our flower farm, hiking and kayaking, relaxing at the beach, and designing cards to sell at the shop in the company of my cross- eyed cat, Rue.